On April 6, the International Water Management Institute (IWMI) and the International Food Policy Research Institute (IFPRI) — along with several other CGIAR (Consultative Group on International Agricultural Research) centers — collaborated with the Department of Water Resources and Irrigation (DoWRI) of the Government of Nepal to officially launch the global CGIAR initiative "NEXUS Gains: Realizing Multiple Benefits Across Water, Energy, Food, and Ecosystems (WEFE)" with particular focus on the Ganges basin.
The event brought together over 100 key stakeholders across water, energy, food, ecosystem (biodiversity + forest) — who exchanged thoughts on opportunities and challenges of promoting and implementing the NEXUS Gains initiative in Nepal and explored different potential activities, collaborations, projects and research ideas.
Here are six key takeaways from the discussion:
1. A truly nexus approach
The foundation of the NEXUS Gains initiative is the understanding that water, energy, food, and ecosystems are strongly interconnected.
Dr. Manohara Khadka, Country Director of IWMI Nepal succinctly expressed in her inaugural speech, "WEFE are highly connected systems critical to food and nutrition security, livelihoods, economy, climate change adaptation, mitigation, environmental health and biodiversity."
NEXUS Gains lead, Dr. Stefan Uhlenbrook of IWMI, emphasized the importance of cross-sectoral collaboration, saying "It's about bringing the sectors together on an equal footing and managing the systems in an integrated way."
A truly nexus approach, however, is not only between WEFE sectors.
There are several scale dependencies and multiple levels of government from federal, provincial, and local bodies to small WEFE user associations, local communities, and disadvantaged people. The number of stakeholders increases complexity, particularly when working on transboundary scales.
"NEXUS must be considered across scales — local, regional, national, transboundary — and decentralized across sectors," explained Dr. Santosh Nepal, Researcher at IWMI.
2. Drawing from the past to move towards a naturally "nexused" future
For a nexus transformation, experts and stakeholders believe that drawing lessons from the past and inventing blended solutions is critical for building a sustainable future.
"Our ancestors were able to implement sustainable solutions by understanding the environment as a holistic force, and maintain their livelihood", explained Dr. Balram Thapa, Executive Director at Local Initiatives for Biodiversity, Research and Development (LIBIRD).
Though the situation has changed, Dr. Thapa emphasized the need to "recognize indigenous knowledge, technology and practices — which still exist — as resources to draw from, and blend them with modern science and technology to harness opportunities."
It is equally important to recognize that all systems are nexus at the household level, which de-facto extend to practice level and social level, and needs integration.
Lachana Shresthacharya, Energy, Food system and Gender Specialist, acknowledged this inherent nature saying that Nexus is already there in the agriculture sector and for women at the household level.
"Societal constructs are nexused but institutional constructs are sectoral, for instance, the concept of NEXUS is missing in the local level planning guidelines. It's business as usual," added Dr. Thapa, "so synchronization is necessary."
3. Data and information for systems thinking
Research, data, and information were recognized as integral to the development of tools, approaches, innovation, policy, and technology across sectors, systems, and boundaries.
Lack of evidence or data is one of the reasons why the sectoral approach persists among lawmakers, as noted by National Assembly member Dr.Bimala Rai Paudyal. "Parliamentarians face the challenge of access to reliable and timely data, and are compelled to rely on government statistics only."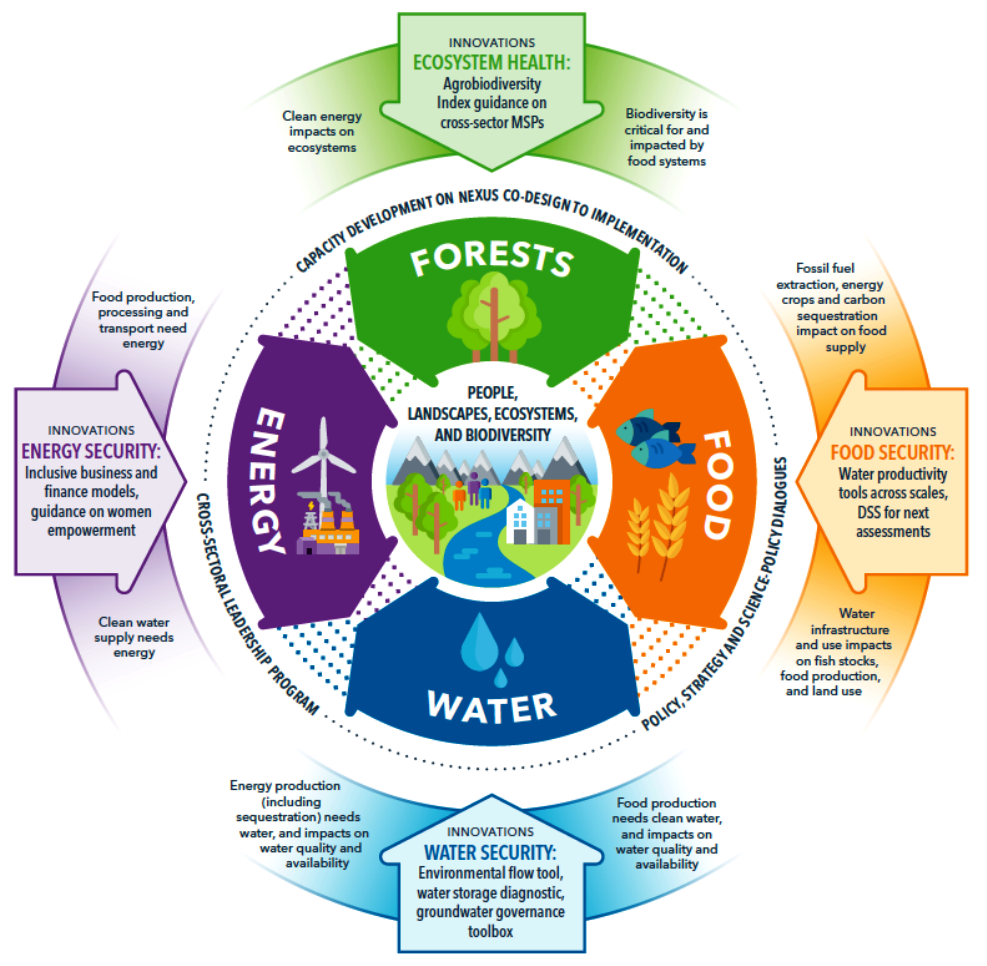 She emphasized the need to bridge the gap between policymakers and research scientists so that policy is driven by more evidence and data.
Although the research community produces scientific publications globally, the research community and MPs hardly work together. It is for this reason, making MPs informed about research findings and drawing their attention to the same — matter.
One way to mitigate this problem is that researchers and academicians should roll up their sleeves, and engage with policymakers on one's own initiative to develop a two-way street, says Dr.Paudyal.
She advised researchers to simplify their research findings and publish in mainstream media while emphasising the need for reciprocal steps from the parliament and political parties. "You will also have to identify champions within the parliament, its committees and political parties, and proactively interact with them", she further suggested.
4. Balances and trade-offs
Achieving a balance between the growing development aspirations and environmental conservation is proving to be a monumental challenge for many developing countries.
On the one hand, there is a growing demand for large development projects for socioeconomic development. But such projects take a heavy toll on on environmental systems — such as irreversible impacts on forest and aqua biodiversity.
On the other hand, the need for protecting ecosystems and natural resources, while recognized, can come at the cost of economic development. So trade-offs remain.
According to Uhlenbrook, "Benefits in one of the systems often lead to trade-offs in others if we don't understand the linkages well enough."
Understanding and managing balances and trade-offs has become a challenge. Combine that with the looming catastrophic threats of climate change, consequences are borne disproportionately, and have become unmanageable for many low-income countries.
Saloni Pradhan Singh, member at National Planning Commission (NPC), emphasized "Interrelationships between WEFE systems are becoming increasingly crucial due to climate change and rising population, because they add strain to the system." "There is no other alternative to understanding inter-linkages and tradeoffs and finding ways to balance and create sectoral synergies for future socioeconomic development."
She also cautioned that it may get challenging to meet national food requirements in the future.
5. Integrating Micro and Macro
Nexus is not only about sectors and systems, but also about understanding and integrating micro and macro needs, forces and nuances.
At the macro level, transboundary water needs and dynamics are highly influenced by geopolitics and often are at odds with the reality or capacity of individual nations.
At the micro level, people, communities, and local economies suffer heavily when governments across political boundaries fail to come together to moderate WEFE-related disasters, such as floods and drought, or manage transboundary resources effectively.
Similarly, it is important to understand how individual farmers and firms' decisions affect WEFE system efficiency. At macro level, discussions are often centered at macro dimensions of agriculture, industries, energy, water supply and sanitation and water management.
Calling for macro and micro integration, Dr. Shabnam Shiwakoti, Joint Secretary of the Ministry of Agriculture and Livestock, highlighted the need to discuss water use efficiency at the farm level (micro management), which is sometimes forgotten in the discussion of basins (macro management).
These situations raise many crucial points that shape NEXUS Gains' thinking. For example, how can the research framework be created to accommodate micro dimensions, and how can the WEFE nexus work towards creating an environment for regional and supranational cooperation for strengthening regional resiliency?
Furthermore, inside national boundaries, federal legal and policy hurdles exist. This, in turn, restricts nexus thinking and innovation. Participants identified that among others, lack of appropriate laws on land classification and sustainable use of natural resources, such as forests and water, could prove challenging for nexus thinking.
Participants also agreed that problems compound due to the sectoral attitude of government agencies and even NGOs and development partners, whose efforts may also need scrutiny.
Several other challenges exist. There is a complex inter-linkage between the functions of three tiers of government in Nepal, who face capacity gaps and workforce shortages. This impedes effective governance. As a result, there is wastage of scarce resources even when the government runs good programs.
For example, agricultural grants and subsidies and provision of technical support have failed to achieve desired effect on production level and productivity due to the misuse of grants, limited monitoring and inadequate support providers.
How we manage these different micro settings and nuances and macro forces effectively is a difficult conundrum.
Dr. Santosh Nepal, Researcher at IWMI, highlighted the need for developing a "cooperative environment" between systems and sectors, governments, communities, and individuals who are presently competing for limited resources.
6. Placing people at the heart of the water, energy, food, and ecosystems nexus
Across WEFE systems and sectors and between environmental, social and economic opportunities, risks and threats — benefits and consequences are disproportionate for different sections of people. Often, people at influential positions enjoy a good chunk of the benefits while women, poor and marginalized groups, indigenous communities and local communities bear the brunt.
NEXUS thinking must place disadvantaged people at its heart to address these inequalities. WEFE is critical to them because their life depends on the availability and management of these resources.
To realize the benefits across WEFE, their concerns, needs, capabilities and voice should take precedence and that solutions are holistic and linked with long-term opportunities for livelihood — whether it's about ramping up agricultural productivity or improving feminization of agriculture and work.
Raising the urgency to incorporate different concerns of grass root people and local communities in decision making, Purna Bahadur Oli, Local Community Representative from Dailekh (Karnali), one of Nepal's remote regions, western Nepal, stressed "It is imperative to be mindful of the realities of communities and grassroot people before policies are formulated from the center, which are usually based on their own narrow perspective, realities and theories."
Further, a discussion session on 'WEFE Governance and Groundwater Resources' called for the need to implement targeted subsidies in pocket areas for the poor and vulnerable groups. "The poorest groups should be linked to and benefit from how water is managed, while also focusing on gender inclusion."
Similar need was voiced in another discussion session 'Renewable Energy for Food System' — prescribing allocation of subsidies for renewable energy access.